Latest news & updates
28th Annual Franklin Parish Catfish Festival set for April 12 in Winnsboro
Country music singer and songwriter Deana Carter will be the featured act at the 28th annual Franklin Parish Catfish Festival scheduled for April 12 in Winnsboro.
Carter's appearance will headline an outstanding lineup of musical acts scheduled for this year's festival, which is held annually in historic downtown Winnsboro.
"This event showcases both Winnsboro and Franklin Parish, and we're excited about what's in store this year," said Festival Director Paul Price, Jr. "Of course, this wouldn't happen without the help and cooperation of the City of Winnsboro and the city crew."

"The city has worked closely with the festival since its inception in 1987, and the positive publicity the festival generates really places the city in a favorable light throughout the state," Price added. "We really appreciate all that they do to make this event possible."
Admission to the festival is $5 per person, and proceeds from the event are put back into the community throughout the year in a variety of ways, including scholarships for parish college-bound students, as well as for worthwhile community endeavors.
In addition, the crowd generated by the festival is utilized as a fundraising opportunity by a number of parish non-profit organizations, including churches and the boy scouts.
"This is our parish's biggest event," Price said. "The groups selling fish last year sold over 4,000 pounds, and we had a crowd in excess of 18,000 in attendance. If it's a pretty day, we can expect a similar crowd this year."
As is always the case, there will be something for everybody at this year's festival, including an antique car show along Highway 15, a flower show and Clementine Hunter art show in the old post office museum, and a free video game room in the Princess Room on Prairie Street sponsored by New Wave Communications.
In addition, free live shows and photo opportunities with real life princesses will be held on the loading dock behind the Old Post Office Museum. This stage will be sponsored by Franklin Medical Center.
Also, the children's play area will be in its usual spot complete with climbing towers and inflatable jumpers, and there will again be a horse ride for the children to enjoy.
A new act – the Kent Family Circus – will also perform throughout the day at their location on Adams Street.
Some 300 vendor booths will line Prairie, Adams, Common and Locust Streets in the historic downtown area, as well as food vendors in their usual place on the parking lot behind the Princess Theatre.
Deana Carter is the daughter of the late studio guitarist and producer Fred Carter, Jr. of Winnsboro, and will perform at 1:30 on the Old Glory Stage. This stage is sponsored, in part, by Entergy.
Also on the music schedule is the popular Newworldson, a Canadian gospel group with a signature sound of inspirational lyrics and an eclectic blend of 60's soul, funk, rock and gospel, along with Christian artist Michael English and his southern gospel sound.
These groups will perform on the stage sponsored, in part, by Winnsboro Main Street. This stage is adjacent to the Council on Aging building on Adams Street across from the festival food court.
Also scheduled is the ever-popular Leroy Marshall – locally famous as L. C. Smoove - as well as the high energy "Blues Boyz" from Jackson who will make a return engagement to the festival with their outstanding dance band repertoire of classic musical hits.
In addition, a number of local and regional artists including Mike McKenzie, Gene King and the Franklin Opry Band, Lainey Wilson, the Pleasant Star Baptist Church Gospel Choir, Lil Nate, the Cadillac Kings, the Excelsior Jazz Combo and others.
Franklin State Bank will sponsor the festival's third stage on the parking lot of Gill First National Funeral Home.
"There will definitely be something for everyone at this year's festival," said festival entertainment coordinator Nathan Roberts. "We've got some 'walk around' groups scheduled, as well as a great lineup of entertainment. People of all ages should be able to hear sounds they really like."
Music schedules and festival details are posted here on the festival website.
Official 2014 Franklin Parish Catfish Festival Tee Shirt Available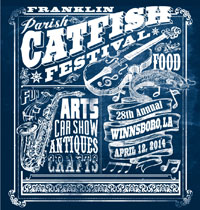 The Official 2014 Franklin Parish Catfish Festival tee shirt is available exclusively at Winnsboro Sports Center located at 812 Adams Street in downtown Winnsboro.
Shirts are $15 for Youth sizes through Adult Extra Large, and $20 for Adult 2x and 3x.
Contact Winnsboro Sports to order your shirt today at 318.435.7987, or drop by the tee shirt booth at the festival just inside the gate at the Bamboo Garden entrance.
Annual Catfish Cookoff Winners announced
Winners of the Annual "Catfish Cookoff" were announced on March 18 at the "Taste of Franklin", a joint event sponsored by the Franklin Parish Catfish Festival and the Winnsboro-Franklin Chamber of Commerce.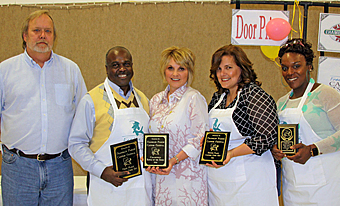 Pictured are (left to right) Festival Director Paul Price Jr., first place winner Darrell Teats representing Franklin State Bank; Susan Russell of Franklin Bank, which captured top honors in the Cookoff's "Battle of the Banks"; second place winner Monique Perritt representing the Franklin Parish Farm Bureau; and third place winner Jordan Hanks. Darrell Teats winning dish was named "Catfish Gustav".
Proceeds from this event are used by the festival to support the annual Franklin Parish Academic Banquet sponsored by the Chamber, which honors parish scholars through a scholarship program that awards over $25,000 each year to qualified graduating seniors.


Clear73.6°F
Humidity: 78% | Wind: ENE at 0.0mph