Events
The Isaacs
The Isaacs will bring their unique family harmony to the Franklin Parish Catfish Festival April 9 in Winnsboro, performing at 1 p.m. on the Old Glory stage.
The multi-award winning family group, based in Hendersonville, Tenn., began singing 35 years ago. The vocalists are mother Lily Isaacs, and siblings Ben Isaacs, Sonya Isaacs Yeary and Rebecca Isaacs Bowman. Playing their own acoustic instruments and joined by other band members, The Isaacs have a unique style that blends tight, family harmony with contemporary acoustic instrumentation that appeals to a variety of audiences. Their musical style has been influenced by manymgenres of music including bluegrass, rhythm and blues, folk, and country, contemporary, acoustic and southern gospel.
The Isaacs perform frequently at the Grand Ole Opry, are active members on the Gaither Homecoming Videos and Concert Series, and travel internationally throughout the year to perform to welcoming fans in countries such as South Africa, Norway, Holland, Scotland, Ireland, Israel, Canada and many more.
The Isaacs have won over 7 Doves in various categories and have had several Grammy nominations in their career. They say they feel blessed to be able to travel and spread the message of hope and grace through song and story.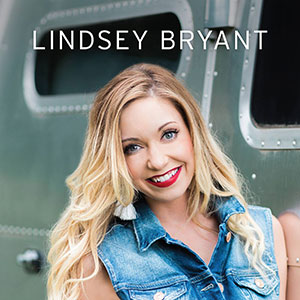 Lindsey Bryant
Country singer/songwriter Lindsey Bryant will make her Catfish Festival debut this year, performing at 1:45 p.m. on the Council Stage.
Lindsey was born on the Westbank of the Mississippi River, just outside of New Orleans, to a couple of musicians -- a Baptist music minister and a humble piano teacher. It's no surprise that she, too, grew up to be a musician with the same fearless spirit as her hometown.
Since her beginnings in New Orleans, Lindsey's "growing up" continued in northern Georgia, eastern Tennessee, and West Monroe. It was there that the sheltered, Gospel music lover was introduced to country music for the first time, and she was hooked.
Her family stayed in Louisiana until 2006, when they relocated to Orlando, Florida. With a new city, a new school, and a new outlook, the then-high schooler established a new hobby: songwriting. This hobby caught the attention of a Christian recording artist who offered her a job as a touring backing vocalist. She quickly fell in love with performing, and when she wasn't on the road, Lindsey could be found entertaining thousands at Walt Disney World, lending her singing voice to Ariel, Peter Pan's Wendy Darling, and Cinderella herself.
In 2011, Lindsey began a songwriting partnership with two other artists in Orlando. With a shared appreciation for our country's armed forces, the trio wrote and released a benefit album for servicemen and women and began toured around military bases in Europe.
These days, Lindsey is enjoying a new chapter — a solo career in country music. Partnering with some of Nashville's finest songwriters and Grammy-winning producer Pete Stewart, she's ready to make waves as a new face and a new voice in country music.
Her album, "Get Down & Giddy Up," is now available for download.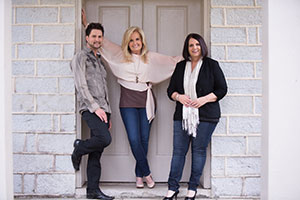 Karen Peck and New River
Karen Peck and New River — the 4-time Grammy Award Nominated and 4-time GMA Dove Award Winning Southern Gospel Group – will perform at the Franklin Parish Catfish Festival April 9 in downtown Winnsboro.
The group will be taking the Old Glory stage at 11:30 a.m.
Karen Peck's flawless, delightful soprano voice has made its way into the hearts of Gospel Music lovers across the country and garnered an unprecedented 11 Favorite Soprano Fan Awards from the readers of The Singing News Magazine, Southern Gospel Music's leading fan and trade publication. As a group, they have had over 15 number one hits and their latest album "Pray Now" featured the #1 song for October 2015 and garnered the Dove Award for Album of the Year, capping a string of award-winning albums.
"Each time we go into the studio to record a new album," Karen shares, "we're at a different place in our walk with Christ than the last time we prepared for a recording. Therefore, obviously, each recording pulls at a different heartstring, yet the message of hope is always present. That's what life in Christ is all about. As a result of various circumstances each of us have faced over the past years, we're at a point in our lives where we realize that anything we achieve or accomplish is all because of Christ. It is an honor to serve Him."
New River sets a new standard for musical perfection with rich vocal harmony that is shaded with the sophistication of Southern Gospel, country and progressive musical sounds. New River today stands not only as a talented and successful recording artist, but more importantly, effective messengers presenting the Gospel.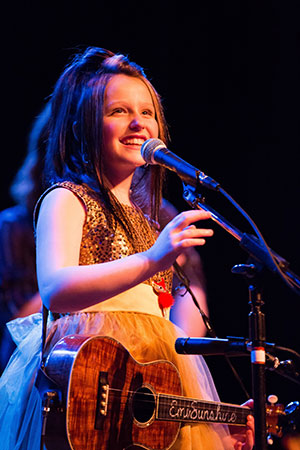 EmiSunshine
Internet sensation, East Tennessee musical prodigy, singer-songwriter. All of these describe 11-year-old EmiSunshine who will make her Franklin Parish Catfish Festival debut this year.
EmiSunshine will perform at 10 a.m. on the Old Glory stage at the festival, set for April 9 in downtown Winnsboro.
EmiSunshine was catapulted to fame when a video of her singing Blue Yodel No. 6 was posted on YouTube in 2014. But her musical talents have much deeper roots – beginning at around 10 months old when she could sing pure tones and hum melodies – and harmonies – with family members. She began singing at church as soon as she was old enough to walk down the aisle and at age four she sang at her aunt's wedding. At age five, she wrote her first song, and at age 7 began to play the ukulele (because a guitar was too big for her).
Once her video went viral, she enjoyed the opportunities that came with that fame – bringing her authentic and folksy vocal stylings to the Today Show and the Grand Ol' Opry. She has recorded two albums and performs 150 shows a year, touring with her family.
"I just really, really love it," Emi says. "I wouldn't trade anything for it. I love how I get to sing to people and make people happy. I'm really blessed that I get to do this. It makes me feel amazing, like I'm touching somebody's life."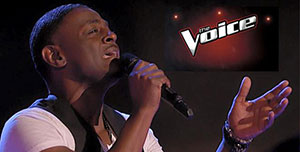 Damien Lawson
Damien Lawson, finalist on season 7 of "The Voice," will come home to north Louisiana to perform at the Franklin Parish Catfish Festival in Winnsboro April 9.
Lawson will perform at 11 a.m. on the Council stage. He is a singer/songwriter living in Los Angeles, California, but he grew up in Monroe where he sang in choirs and events throughout his childhood.
Lawson's big career break came when he got to audition for season 7 of "The Voice." Lawson made it to the final episode and was the first " Voice Wildcard" in the history of "The Voice." He has worked with artists such as Maroon 5's Adam Levine and Oscar winner Jennifer Hudson.
While enjoying nationwide success, he is looking forward to bringing his rising star back home to Louisiana.
A Princess Celebration
The princesses of Enchanted Entertainment will return to the Franklin Parish Catfish Festival April 9, to the delight of children (and adults!).
"A Princess Celebration," an original, interactive musical experience celebrating the love of two sisters, will be presented on the loading dock stage behind the Old Post Office Museum at 10 a.m. and 12:30 a.m.
The show will feature around nine wonderful characters and there will be a "meet and greet" with the characters following both shows.
Make plans to bring the princesses (and princes!) in your life to these special performances.