Latest news & updates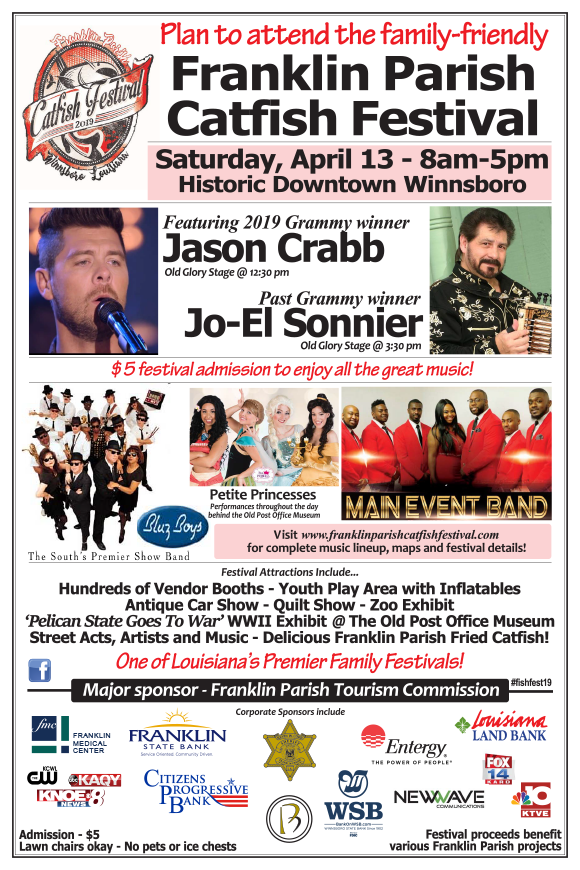 2019 Catfish Festival T-Shirts Now Available as School Fundraiser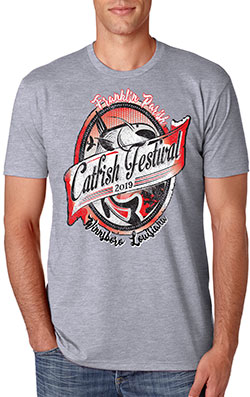 The Franklin Parish Catfish Festival is partnering with local schools this year to offer online purchasing of festival T-shirts, starting this week.
"We're so excited to offer a simple, quick online ordering option for Catfish Festival T-shirts," board member Celeste Shivers said, "while at the same time using those sales to benefit our schools and kids!"
Shirts in adult and youth sizes are available for $20 and, during the pre-sale period, schools will keep $4 for every shirt sold.
"We've gotten a very enthusiastic response from our schools," Shivers said. "We're hopeful that this will be a successful fundraiser for them."
"The Catfish Festival has a long history of support for local children -- giving back is what we're all about," Festival Director Paul Price said. "We make a large annual donation to the Academic Achievement Banquet, we contributed funds to build the children's park and, of course, festival day gives lots of local schools and organizations the opportunity to raise funds as they participate in the largest one-day festival in the state. We're glad to offer the T-shirt promotion to give schools even more opportunities to earn money."
"The link for the online shop is https://bit.ly/2CsSK94" Shivers said. "When you visit the site and make your selections, at checkout you choose the school you're supporting. The shirts will arrive at the schools the first week of April, 'bagged and tagged' with the customer's name for pickup or student delivery."
Customers may also use the link to buy shirts and have them shipped anywhere in the US for $5.95 to a maximum of $9.95, depending on volume ordered. Payment is by debit/credit card or PayPal via a secured site.
"We get requests every year from folks who'd like to have shirts shipped to them – so this is a great opportunity for festival fans from all over the country to get their shirts," Shivers said.
The pre-sale period will close March 13 and shirts will be delivered in early April. Additional shirts will be available for purchase at the festival, set for April 13 in downtown Winnsboro.
For more information about t-shirts, or all Catfish Festival news, check out the website at franklinparishcatfishfestival.com and follow us on Facebook.
This year's shirts are being provided by Jon Hale with Talk'n T-Shirts, a Louisiana-based company specializing in screen print, embroidery and promotional items for any group or business. Find them at https://www.facebook.com/jontalkntshirts.