Latest news & updates
Mark Lowry to Perform at This Year's Festival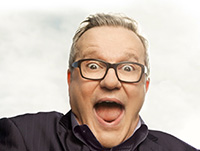 Mark Lowry will perform at the Franklin Parish Catfish Festival April 8, bringing his unique blend of gospel music and side-splitting humor to downtown Winnsboro.
"Mark Lowry is known and loved around the world as a trusted voice in the realm of gospel music and comedy," Festival Entertainment Director Nathan Roberts said. "We are excited to welcome him to this year's festival!"
Lowry started making music at age 11 and now, more than four decades later, his legacy is forever sealed as an innately entertaining communicator who can, at once, make audiences laugh, cry, and think.
A singer, storyteller, humorist, author and songwriter, Lowry's lyric to "Mary Did You Know?" resulted in one of the most loved modern Christmas songs of this century.  This captivating song, which he co-wrote with Buddy Greene, has been recorded more than 400 times by artists from every genre.
Lowry has spent more than 20 years as the baritone singer for the Grammy-award-winning Gaither Vocal Band and serves as the sidesplitting comedic sidekick for Bill Gaither through live concert tours and the best-selling Gaither Homecoming video series and television airings (now more than 150 volumes strong).
A deep thinker and student of theology with an outrageous sense of humor (for which he often credits his diagnosis with Attention Deficit Disorder), Lowry's life work includes a long list of recordings and DVDs reflecting a wide range of influences, including: Mark Lowry On Broadway, Mark Lowry Goes To Hollywood, Life Gets Loud, I Love To Tell the Story (his first all-hymns recording), Unplugged and Unplanned, Whatcha Need, Unforgettable Classics, How We Love, and most recently … DOGS GO TO HEAVEN.
In spite of the broad range of musical inspiration found in Mark's discography, there is one element that never changes: his gift for communicating profound truths through music and storytelling that keeps audiences of all ages on the edge of their seats. 
Joe Diffie to Headline Entertainment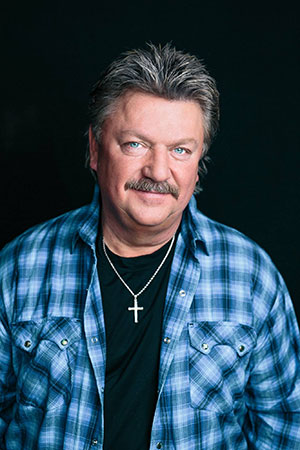 Multi-platinum country artist Joe Diffie will headline the Franklin Parish Catfish Festival April 8 in downtown Winnsboro.
With 12 number one hits, Diffie dominated the charts during a hot streak in the 90s and with the release of Jason Aldean's hit "1994," the legendary singer found himself squarely back in the hearts and minds of country fans.
"He may have been absent from the radio charts for a few years," Festival entertainment director Nathan Roberts said, "but Joe-Joe-Joe Diffie has never slowed down – writing, touring and recording. He's going to put on a great show for us and we're excited to have him."
With chart-toppers like "Pickup Man," "Third Rock From the Sun," and "John Deere Green," and 13 albums and over 20 Top 10 singles to his credit, Joe has little to prove at this point in his career, yet he still has a fire in his belly to make good country music. A renowned songwriter in his own right who recently turned his focus back to writing after years on the road, Joe has hits for artists like Tim McGraw, Conway Twitty, and Jo Dee Messina to his credit. And now he's back at it again, riding shotgun with hick-hop sensations the Jawga Boyz on a brand new single, "Girl Ridin' Shotgun," which was recently released to country radio.
He is also hard at work on an album of brand new material, due out later this year on Bigger Picture Records. The collaboration with the Jawga Boyz and the attention from the Aldean hit is opening all sorts of new doors for Joe at this point in his career, and he's excited at the prospect of working with some of music's hot new hitmakers.
"We had a good time writing and recording my new song "Girl Ridin' Shotgun,' and making a video for it," says Joe. " I've been writing with a lot of new artists and I never thought that collaboration with one of them would lead to this, but I'm really glad that it has. It's a different sound for me and I'm having so much fun with it all. I can't wait to see what the future brings!"
Franklin Parish Catfish Festival Featured in TravelMag
The historic downtown district of Winnsboro is the setting for this family-friendly festival that features music, magic shows and over 300 diverse booths. Now into its third decade as a fixture on the city's cultural calendar, the day-long festival attracts large numbers of visitors each year, including locals and outsiders alike. But no need to be shy about throwing yourself into proceedings – the atmosphere is famously friendly and welcoming to all-comers and offers a great day out. WHEN 8 April WHERE Winnsboro

Clear77.4°F
Humidity: 60% | Wind: SSE at 5.0mph