Photos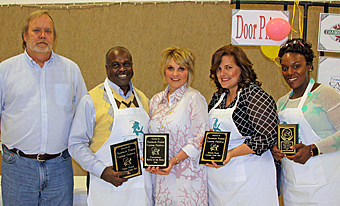 Pictured are (left to right) Festival Director Paul Price Jr., first place winner Darrell Teats representing Franklin State Bank; Susan Russell of Franklin Bank, which captured top honors in the Cookoff's "Battle of the Banks"; second place winner Monique Perritt representing the Franklin Parish Farm Bureau; and third place winner Jordan Hanks. Darrell Teats winning dish was named "Catfish Gustav".
View photos of the Franklin Parish Catfish Festival in the slideshow below. To see more pictures, visit our page on Flickr.
You can also view additional photos here.